Argentina's airline, Flybondi, has taken a groundbreaking step in the aviation industry by launching ticket sales in the form of NFTs (Non-Fungible Tokens). As the latest advancement in real-world business applications for NFT technology, this innovative move allows Flybondi to provide a more flexible, user-centric experience for its customers.
Flybondi first announced its plans for tokenizing tickets back in September 2022. The airline expanded its partnership with commercial platform TravelX to implement NFT-based tickets, offering numerous benefits to passengers. The ticket issuance system is built on the Algorand blockchain.
NFT-based airline tickets give passengers greater freedom and autonomy, allowing them to rename, transfer, or gift their tickets with ease. This breakthrough comes at a time when the aviation industry's stringent policies on changes and cancellations are being challenged. Flybondi's NFT ticket initiative follows in the footsteps of TravelX and Air Europa's world's first NFT flight in April 2022.
TravelX's open infrastructure makes it possible for any exchange or marketplace to use its API. Currently, around 60 airlines worldwide are exploring use cases for NFT-based tickets.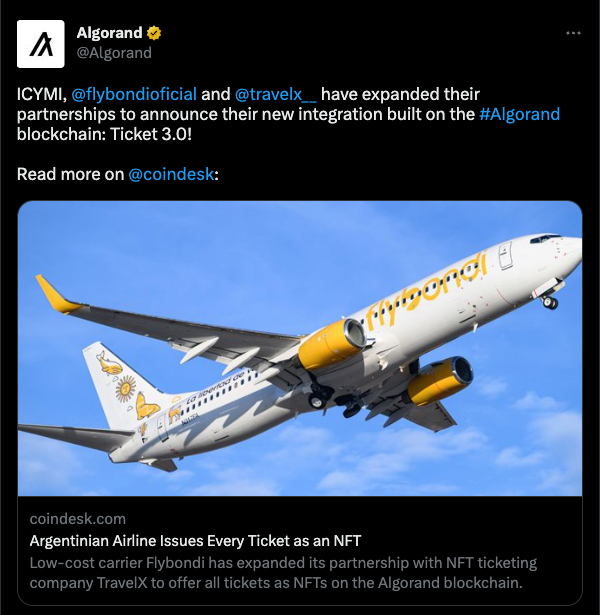 Mauricio Sana, Flybondi's CEO, highlighted the forward-thinking nature of this initiative: "With Ticket 3.0 (NFT), our passengers will have more flexibility and control over their flights as they can easily and autonomously transfer, rename, or gift their tickets. We aim to make a positive impact on the commercial aviation industry through innovation and the application of blockchain technology. Changing the rules of the game is never easy, but our goal is to evolve and offer our passengers a new stage of freedom in flying."
To purchase a Flybondi NFT ticket, passengers can follow these simple steps:
Visit the Flybondi website and purchase the ticket using traditional payment methods.
Click on "Create your account."
Once the account is created, passengers can manage their NFT ticket.
If the NFT owner cannot or does not want to travel, the company's interface offers options to gift the ticket and change its ownership.
The partnership aims to make the travel experience more flexible, enabling passengers to buy tickets in advance without needing to confirm their plans or travelers. TravelX does not charge a commission at the time of purchase but receives a 2% transaction fee when a secondary market transaction occurs.
After purchasing a ticket on Flybondi's website, TravelX issues a synchronized NFT ticket in addition to the standard e-ticket. Customers can create a Ticket 3.0 account to manage and store their NFTs through Flybondi. All rules and conditions for the tickets are integrated into the NFT's smart contract by the airline.
This innovative use of NFT technology demonstrates its potential for real-world business applications and paves the way for further advancements in the travel industry. If you're interested in learning more about how NFTs are revolutionizing various sectors, I recommend you to check out these articles on NFTs being applied in the different industries:
Are you thinking about integrating NFTs as a solution for your business? Send us an email!