CryptoGPT, an AI-focused Layer 2 blockchain project, has announced raising $10 million in a funding round led by DWF Labs, which resulted in a $250 million valuation. The project is based on zero-knowledge (ZK) technology and aims to allow users to monetize their data in fitness, dating, gaming, and education sectors.
As the hype around artificial intelligence (AI) continues to grow, blockchain projects are leveraging AI technology to drive new innovations. CryptoGPT, a Layer 2 blockchain project that seeks to capitalize on AI's success, raised $10 million in a Series A funding round led by DWF Labs, according to reports from CoinDesk and The Block. The AI-focused project has now achieved a valuation of $250 million.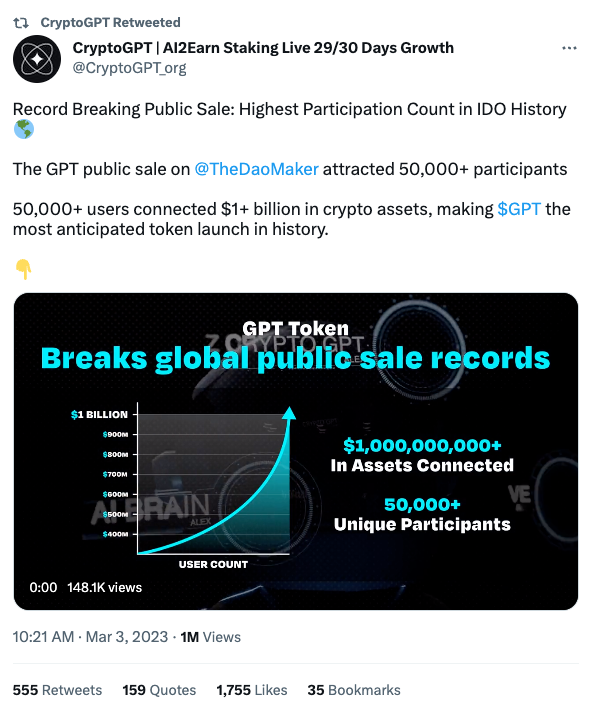 Established in 2022, CryptoGPT is an Ethereum scalability solution based on zero-knowledge (ZK) proofs. Its primary goal is to enable users to earn money by monetizing their data in various areas, such as fitness, dating, gaming, and education.
CryptoGPT aims to revolutionize the data market by offering individuals a source of income for their daily tasks through data power and monetization. The project recently launched a Web3-focused AI assistant called "Alex" and is developing a data engine that collects, encrypts, and transfers data for commercial applications, as reported by CoinDesk.
"Instead of applying ZK technology to payments, CryptoGPT integrates it for private data transfers," CryptoGPT stated in a press release cited by news outlets. The project also plans to implement non-fungible tokens (NFTs) for storing owner activity data.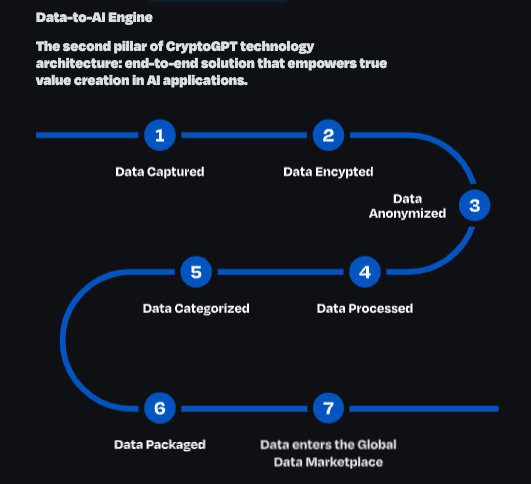 The newly raised funds will be used to expand the company's global development team and strengthen its regional presence in Asian markets, according to Dejan Erja, co-founder and CTO of the AI-focused blockchain project. However, DWF Labs has only invested $420,000 of the total amount raised so far, as detailed by the co-founder to The Block. The web3 investment firm, which also serves as a market maker, will make the investment over 285 days and create a market for CryptoGPT's GPT token as part of the agreement.
CryptoGPT launched its native GPT token last month, attracting significant attention from the community. GPT is currently trading at $0.074 with a market capitalization of $13 million, according to CoinMarketCap data. The token's price has risen 12% on Monday following the fundraising news.
Erja told newspapers that the project had previously raised $3 million in a token round through a public sale via DAO Maker last month.
Cryptocurrency projects focused on AI have been thriving in 2023 amid the rapid rise of chatbots like OpenAI's ChatGPT. Some AI tokens skyrocketed up to 1,000% earlier this year amid interest in the technology, with Fetch.ai (FET), SingularityNET (AGIX), and The Graph (GRT) standing out for their higher market capitalization.
However, there is some skepticism surrounding the long-term viability of such projects and their native tokens, with the view that the recent surge is merely part of an overarching hype fueled by enthusiasm for these developments.
On a final note, with the rise of AI solutions, we see this technology being implement as means to optimize processes and grow funnels across digital businesses. Such is the case of  One Mint's - AI Generator, a tool powered by neural networks that helps NFT projects to generate images and content from their existing artwork, among others.
As we continue to explore the potential of AI, we're left with the intriguing question: Will AI merely amplify our own perceptions and understanding, or will it unlock new ways to perceive and appreciate the world around us? Only as the industry grows and new standards are set, will we see the true impact of these  developments.